Our School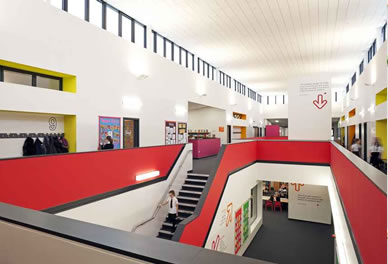 Our new school building is bright, modern and spacious and although we moved in February, the building wasn't officially opened until June 2013.
To celebrate the opening of our new school building we invited special guests including Depute Provost Pam Clearie, Councillor Jean McKeown, Councillor Brian McKenna and local Councillor Walter Brogan. We were also delighted to welcome Tony McDaid, George Wynn, Anne Rooney.
All of these special guests came a long to hear us sing, dance, recite poetry and perform in our Opening Ceremony. The day was a great success and was concluded by releasing balloons of the school colours and having Pam Clearie cut the ribbon. It is a day that we will not forget and it was something that we all really enjoyed being apart of.
What facilities do we have at Cairns?
1 large Gym Hall
A stage with a fully functioning sound and lighting system
A separate Dining Hall
An ICT suite fitted with 20 desktop computers, 20 minibooks and a Smartboard
14 Classrooms each fitted with a computer
Ipad trolleys
A large open area
2 well resourced libraries (infant and senior)
Smartboards in every classroom and Open Area
Nursery which accommodates 50 children in the morning and 50 children in the afternoon
2 large playgrounds (1 infant, 1 senior)
MUGA (Multi Use Games Area) - Outdoor
Sensory Garden
Quiet Reflection Zone (Outside)
Timber Trail (Infant playground)
We try very hard to keep our school looking as brilliant as it did when we first moved in. We make sure that the walls are filled with bright, colourful pieces of work and that we keep our cloakroom and Open Areas tidy. We like to welcome new visitors into our school and often invite our friends and families to come and watch us performing in different showcases and assemblies as well as at our Harvest Service, Nativity and end of year Summer Show.